WISH
Be careful what you wish for…
We've heard that line so many times… and why do we need to be careful? Because our words have power! God is listening to our wishes and it will come true!!! Believe it, but it will be in His own time, that is!
Do you know what's more powerful than just wishing upon the star? Yes, self-declaration!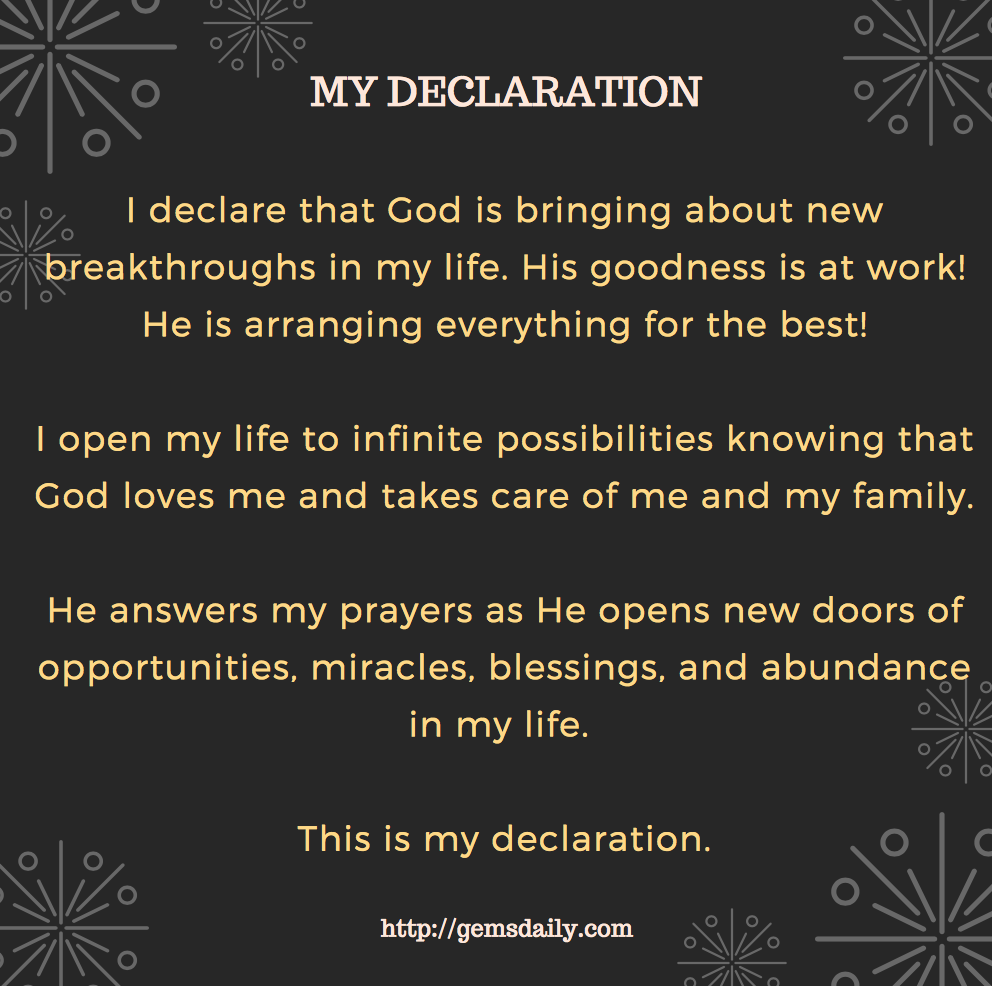 I bet you!  Post this declaration on your wall, look at it every morning and night, or better yet, read it, read it out loud, and I assure you great things will come in your life!!!
Declaring is way better than wishing because you are activating the power of belief!
THERE IS NO SUCH THING AS SOMETHING FOR NOTHING
I tried it.
And it is happening and it's scary!!! Because I think whether you are ready or not, it is bound to happen!
You see, I love, love, love my job right now.
I love that I wake up at 5 am to prepare to work. I love that we leave the house at 6:15 am, bring Mymy to school, and catch the train at 6:45 am. I love that I get to sleep on the train for an hour, and briskly walk for 15 minutes to the office. I love that I have a low-stress work (because I've been doing it for 2 years now), and I love, especially the people I work with! I love everything about where I am now.
That love-love-thing sounds familiar because those were the same words I uttered when we moved to Gallup, NM in 2010 and well, to those who knew the story; I left Gallup three years ago, and had been everywhere! But, it was all for good! I thank God for that!
My Declaration, I created before 2016 ended. I posted it on my cabinet in the office, posted it on our refrigerator at home, and taped it in our bookshelf in the room.
Every morning, I'd read it before preparing to cook breakfast. Every day, before doing my workload in the office, I'd read it out loud. Every night, before going to sleep I'd read it still.
It is so powerful that when I read the words, I feel like it is right there, like, anytime, it will happen!
MY DECLARATION WILL HAPPEN!
Anyway, so yesterday, out of the blue, an opportunity came. It was so good to pass that I knew I have to at least try my luck.
Even though I love everything about where I am, there's this one thing that is so important to me that I couldn't have (unless I patiently wait for it), and I think this opportunity will make it happen for me.
But it is just one thing. There are also other factors to consider that I do not know if that other opportunity will provide like, good office mates and low-stress work?
I'LL PAY THE PRICE
My friends, I just listed the price that I have to pay if I will jump and take the risk!
The truth of the matter is declaring that God is bringing about new seasons of growth, and all the new doors of opportunities and change are all scary!
Yes, because you pay the price.
BUT CHANGE IS GOOD!
But that is the excitement of life! When we open our doors to opportunities, it brings about change and change is wonderful!
Change will never make you the same again!

Change will stretch your mind to possibilities.

Change will take you to depths you've never been before.
So, what do you think? Are you ready for some change in your life?
Happy declaring!
Comments
comments